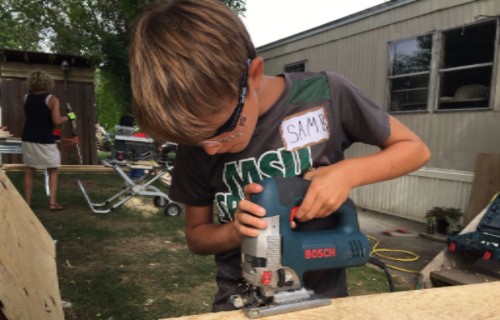 Priority Needs
These are a portion of current priority-level needs in need of volunteers and project leaders. Please prayerfully consider using your talents on one of these projects.

Questions? Ready to step out on the water with one of these projects? Call our office at 231-941-4171.

Interior Renovation
Proj #2449
Mancelona
The homeowner is a single mother of a teenage daughter, who both are currently living with friends while their mobile home is being renovated. She maintains a job but is unable to complete the necessary repairs alone. These renovations will give her and her daughter a modest, yet stable home to live in for years to come.
Volunteers have already installed a membrane roof, re-sheeted the entire subfloor, and installed most of the flooring.
Leaders and volunteers are needed to complete the following interior renovation tasks:
Install a new kitchen

Bathroom repairs including replacing the shower valve, installing a shower surround, vanity, and toilet.

Replace an exterior door

Inspect furnace for proper operation (experienced HVAC tech needed)

Install base trim.
---
Interior Repairs-
Proj #2008
Meadow Lanes mobile park, Traverse City
This project if for a single lady, widowed, and recovering from cancer. Once employed as a registered nurse, she can no longer work due to her poor health. Her home suffered from a severely leaking roof, which has been replaced by volunteers from the TC West Hockey team. Some interior repairs also have been accomplished by volunteers from local churches, with the following tasks remaining:
Remove damaged drywall in living room, inspect for framing damage, repair as needed, and repair drywall.

Replace entry door with broken threshold.

Install fascia along eaves (experience with trim brake needed)
---
Interior Repairs
Proj #2584
Benzonia
This project is to assist a single dad of two surviving children. One of his daughters and her mother were killed in a car accident last year. The clients' mother has been assisting him with care for his children, and in making arrangements for repairs to a home for them. Volunteers have repaired the bathroom and laundry facilities, and reinforced the floor support system. The kitchen and dining room is still in need of the repairs listed here:
Sheet the subfloor (over the existing flooring)

Replace a slider door and window (openings will need reframed)

Basic electrical repairs/upgrade to accommodate kitchen.

Insulate and hang drywall on one wall (no finishing required)

Install linoleum flooring

Install kitchen cabinets and countertops
---
Handicap Ramp
Proj #2547
Honor
This client is a retired, elderly man living with his wife, and is currently bed bound from serious illness. He was receiving hospice care, but miraculously has had enough of an improvement in health to be removed from hospice. He is in need of a handicap ramp so he can attend physical therapy, and hopefully gain back some mobility. This project is in need of a project leader and volunteers to construct the ramp per drawings.
---
Plumbing Repairs
Proj #2501
Kingsley
This project is for a family with 2 boys. The father has done his best to maintain the home, but has some issues that are beyond his abilities. Currently, there are some plumbing leaks in the bathroom in desperate need of repair. This family is in need of a volunteer or two with some plumbing experience who are willing to:
Remove toilet, repair flange, and reset the toilet

Replace the shower valve (back side accessible from stair well)
---
Membrane Roof
Proj #2507
Kings Court mobile park, Traverse CIty
This project is for a working single woman living in King's Court park. This is an older single wide mobile home with a leaking roof. She has personally made several repairs to the interior of the home and has attempted to patch the roof herself. However the roof continues to leak which will ruin the repairs she has already made. The roof has two sections that can be tackled independently, and there is already a crew able to tackle one part. This project is still in need of a crew leader and volunteers to tackle the other portion of the membrane roof.
---
Furnace Inspection
Proj # 2541
First Point mobile park, Elmwood Twp, Leelanau Co.
A complete renovation to this home by dozens of volunteers has allowed this hard working family to have a home of their own, after sharing a small mobile home with another family. One last piece of the puzzle still exists: the existing furnace is in need of an inspection from a knowledgeable HVAC tech. This will ensure that this family has a safe heating source for the upcoming winter.
**This project has been claimed by a volunteer!! Thank you!
---
Window Replacement
Proj # 1898* First Point mobile park
Elmwood Twp, Leelanau Co.
**This project has been claimed by a volunteer!! Thank you!
---
Exterior Door Replacement
Proj # 1927*
Traverse City
This single mom has an exterior door that has leaked, causing the floor inside to become soft. We are in need of a project leader and volunteer to:
Remove and replace the exterior door

Repair the floor damage
---